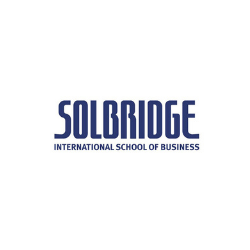 Located in Korea's Silicon Valley Daejeon, SolBridge prepares students to be the Next Generation of Asian Thought Leaders in the fast growing and rapidly changing Asian economy. SolBridge is unique among business schools for several reasons:
Fully English-taught curricula / degree programs.
Chinese, Japanese or Korean language courses for full-time students.
80% international faculty, with degrees from prestigious universities.
International business model teaching methods.
Diverse academic and cultural programs with a strong focus on Asia.
An international student body representing 64 different nationalities / countries.
A balance between theory and practice through immersion programs, special lectures, workshops, and internships.
The Career Advisor Program (CAP) designed to provide students with academic guidance for preparing career plans.
The CEO Mentoring Program designed to connect students to the corporate world and leading experts.
The Asian Thought Leaders' Case Competitions providing an opportunity for students to challenge their business skills.
One of the world's youngest business schools to receive the AACSB accreditation.
| GAC GPA | Major | Duration | Estimated Tution Fees(per year) |
| --- | --- | --- | --- |
| IELTS 5.5 or TOEFL iBT 61 | Entrepreneurship | 4 years | $12,109 |
| IELTS 5.5 or TOEFL iBT 61 | International Business | 4 years | $12,109 |
| IELTS 5.5 or TOEFL iBT 61 | International Marketing | 4 years | $12,109 |
| IELTS 6.5 or TOEFL 79 | MBA in Finance | 2 years | $13,839 |
| IELTS 6.5 or TOEFL 79 | MBA in Management | 2 years | $13,839 |
| IELTS 6.5 or TOEFL 79 | MBA in Marketing | 2 years | $13,839 |